Celebrating One Year and One Million!
It's official. In just one year, the SUCCESS Foundation™ has distributed one million SUCCESS for Teens™ books and audio CDs to young people through our partnerships with schools and churches; and our alliances with youth-focused organizations such as Big Brothers Big Sisters; America's Promise Alliance; NFTE; Just Say Yes; Boys and Girls Clubs; Optimists International and others. And, of course, our friends, family and client partners, too!
We thank them all for their commitment to youth and belief in SUCCESS for Teens.
Welcome to Dalton Sherman!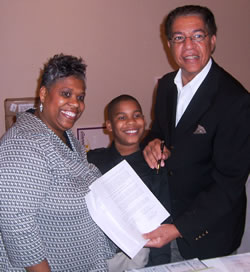 Dalton with his mother, Donna Sherman, and John Fleming,
Executive Director of the SUCCESS Foundation
The perfect way to commemorate the first year of SUCCESS Foundation work is with the announcement of our first youth spokesperson, Dalton Sherman!
This gifted 11-year-old captured our hearts and imagination a year ago when he delivered his "Do You Believe in Me" speech to 17,000 educators in Dallas, Texas. His parents have asked and we have agreed that Dalton become a part of the SUCCESS Foundation initiative as our youth spokesperson, sharing his personal message of inspiration and mirroring the personal development principles described in SUCCESS for Teens
Join us for our first Young Entrepreneurs Rally
NFTE Greater Dallas, the SUCCESS Foundation and the University of Texas Dallas Institute for Innovation and Entrepreneurship are joining forces to host a Young Entrepreneurs Rally, featuring an agenda that will inspire young people to maximize their potential through entrepreneurship.
The Young Entrepreneurs event will kick off Global Entrepreneurship Week 2009. Three-hundred student entrepreneurs from the Greater Dallas NFTE program will gather on the UTD campus for a half-day rally featuring speakers, business-and personal-development lessons and a little lively business competition (with prizes!).
We need your support for this event. Click here for complete program details and learn how you can make a difference in the lives of youth!
It's a Virtual World!
It's a brave new world of communication! You can now follow the SUCCESS Foundation on
Watch for success stories, updates, events, donation opportunities and more. We look forward to opening relationships in the virtual community and growing relationships the old-fashioned way... person-to-person.

Follow us on Twitter
Become a fan on Facebook
A Rockin' New Website Look!
Check it out! Give us feedback!
www.SUCCESSFoundation.org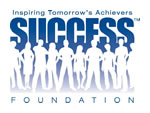 Call to Action!
Everyday, somewhere, there is a teen searching for someone who cares, a message of hope, and opportunity to gain re-enforcement in the belief that he can achieve; that he should be able to live a life of purpose and contribution. You can help us ensure that teens receive this simple but purposeful book, containing messages of hope-messages which guide decision-making and choices-messages with the potential to be life-changing.
Join us in our mission-we need your help! Every $1 you give places a SUCCESS for Teens book or audio CD in the hands of a teen.
Thank you for believing in the work of the SUCCESS Foundation.
Sincerely,




John Fleming
Executive Director

P.S. Be sure to share this e-mail everyone you know who wants to help today's teens succeed! Just click the forward e-mail link below.

*For every donation of $50 or more, a special thank-you gift awaits!